Building and structural property surveying
Our building and structural surveyors complete a thorough inspection and produce a comprehensive report based on our property surveying findings. Unlike a standard Home Buyer Report, our property surveying reports include photographs and cost estimates associated with any identified defects.
Property surveying is essential to highlight any major repairs or alterations needed, such as fixing the roof or chimney chute. Our survey report is presented in a clear format, jargon-free and supported by photographic evidence of all identified defects. Because some defects can be more serious than others i.e. structural rather than cosmetic, we present required repairs in terms of priority. If you proceed with the purchase of the property our report will then help you plan and budget for future repairs to be done.
If you have any questions or concerns or would like to discuss the report in more detail, you can speak directly with the property surveyor who carried out the survey. We want to ensure that you have a complete understanding of the property.
What our survey covers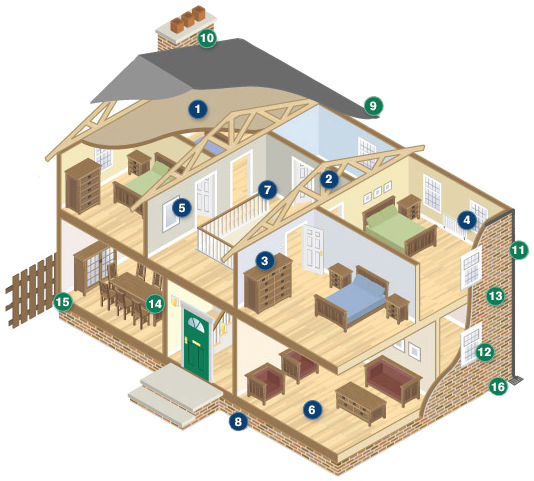 Internal
1

Loft space / insulation / ventilation

2

Roof construction

3

Electrical installation

4

Plumbing / heating installation

5

Decoration and finishing

6

Flooring

7

Joinery

8

Basements
External
9

Roof coverings

10

Chimneys

11

 Guttering and rainwater pipes

12

Joinery/windows/doors/decoration

13

 Walls / subsidence / movement

14

Electrical supplies

15

Damp proof courses

16

Drainage
Other Property Surveying Services
We can investigate if a particular defect on a building has been identified or because you are concerned about some cracking or evidence of potential damage.
Home-Approved will select professional consultants, contractors, specialists and other key people to ensure that client objectives are met.
Post works surveys are necessary when you have issues with the standard of work that has been carried out on your property.
Why choose Home-Approved?
We conduct a thorough inspection

We use eight-metre pole cameras to obtain video and still images of areas that are difficult to access.

We provide important information about identified defects

We'll ensure that you understand the associated costs of repairs.

We are impartial and independent

Home-Approved does not recommend contractors or tradesmen. We have no vested interest in declaring property to be in poor condition, or identifying unnecessary repairs.

It will give you confidence

The report will help you to make difficult decisions: whether you decide to negotiate a better price, or decide not to proceed with the purchase.
We're responsive and efficient

You'll receive your report within three working days of our inspection, because we know that time is often critical to the buying process.

We provide a professional service

All of our surveyors are members of the Royal Institution of Chartered Surveyors (RICS) and we are fully covered by Professional Indemnity and Public Liability insurance.

It's cost effective

We want to support you in the search for your new home. A Home-Approved RICS building survey is a cost-effective means of getting an early indication of unforeseen repairs.
Request a call back
Have a question? Have us call you back by entering your details below. We aim to call you within 24 hours.