We like to share information that we believe will be of interest and useful to anyone buying or selling a home. We often talk about the services we offer, but we never say much about the people who provide those services! So we thought we'd take the opportunity to introduce the fantastic Home-Approved team.
In the first of an occasional series of articles, we'd like you to meet Michelle Gillham, our Administrator.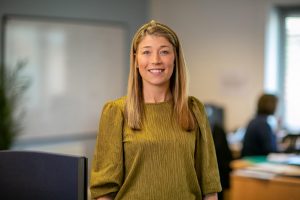 Michelle, when did you join the Home-Approved team?
I joined the company in November 2020. I'd been made redundant from my previous job in hospitality due to the Covid-19 pandemic and was looking for a change of direction, but one where I could still use my organisational skills.
Tell me about the main elements of your job?
I assist Isabel, our Party Wall Surveyor, by sending out quotes, preparing Notices and booking in Schedule of Condition appointments. I also assist Rachel, our Office Manager, with typing up reports, booking surveys and preparing site notes. I am one of the first points of contact for our clients and am passionate about customer service.
What do you enjoy most about working at Home-Approved?
Having been part of a large team of 100 people, I'm really enjoying working as part of a smaller and very tight team. Everyone has a valuable role to play, you're not just another cog in a corporate wheel – it's a much more 'human' culture.
Do you feel that your aspirations are supported at Home-Approved?
I have learnt so much since joining the Home-Approved team. The entire team has invested time in teaching me about the industry and they've all encouraged me to get involved in new things. There is plenty of opportunity for professional development, which is brilliant. I recently attended a course on the administration of the Party Wall process and I think I was the only non-surveyor on the course.
There is also a good understanding of work-life balance. I'm able to work around school hours and holidays and I really appreciate the flexibility. And while the Covid-19 pandemic was at its height there was no problem with home working – the company even bought me a laptop for that purpose.
What do you like about the Home-Approved office?
It's modern and well-equipped and its location is perfect for me. People are always coming and going so, although we're a relatively small team, there is still a lot of interaction. Plus there is always cake.
How would you describe the Home-Approved culture?
Very simply: friendly, professional, supportive and flexible.
What are your hobbies outside of work?
I have two boys aged 5 and 9 so, not surprisingly, my time pretty much revolves around them and family life – I love going on family day trips to the beach and visiting theme parks. You'll also often find me on the high street either shopping or socialising with friends. Can I count those as hobbies?!
Are you passionate about any charitable causes?
I support Alzheimer's Society and Motor Neurone Disease Association. My husband also took part in a half marathon to raise money for them.
What is one thing about you that surprises people?
I have 22 cousins, which I've been told is quite a lot.
If you could survey one building which one would it be?
It would have to be The Shard in London, somewhere I've wanted to visit for a while now. That said, I imagine that it would take a very long time to complete the survey!