Guildford has a rich heritage and a wonderful array of historic buildings. From the 14th century Guildhall and the Royal Grammar School, which was built in 1509, to Abbot's Hospital, a set of 17th century alms houses, and the remains of Guildford Castle.
The completion of the Wey Navigation in 1653 saw Guildford grow as a centre for trade and business. This led to more and more homes being built over the following centuries.
Today, Guildford is a busy market town with a charming cobbled high street. There is a plethora of imposing period properties along with many newer properties as Guildford has expanded. It's easy to join major road networks and the mainline station means that London is just 30-40 minutes away.
Away from Guildford itself, there are plenty of villages and small towns to discover – from picture-perfect Shere to Bramley, Cranleigh and Godalming.
And with the beautiful Surrey hills on your doorstep, Guildford and the surrounding area really is a perfect place in which to settle.
The Surrey hills could literally be on your doorstep!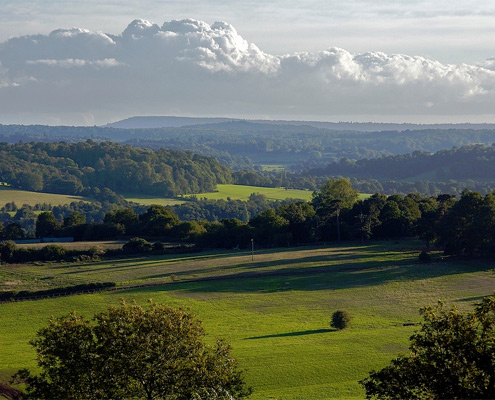 Characteristic of Guildford are the many steep residential roads and streets. Of course, many properties will have stood, without problem, for several hundred years. But their age highlights the need for a full building survey if you are buying in the Guildford area.
Having confidence that the house of your dreams isn't subject to a serious subsidence issue or movement will make all the difference to your decision-making process.
Equally, the lower part of Guildford sees the River Wey flowing past. It is unusual for for flooding to be a major problem. But, there have been several incidents in the last few years where the River Wey has flooded and the Millbrook area, at the bottom end of the town, has suffered.
Blame it on climate change, freak weather conditions, whatever, this is not a problem unique to Guildford and other parts of the country suffer far worse.
The standard searches that have to be carried out during the buying process will identify if the property you are buying is located in an area prone to flooding. A full structural survey will show up any associated problems that you may need to deal with.
We know the Guildford area well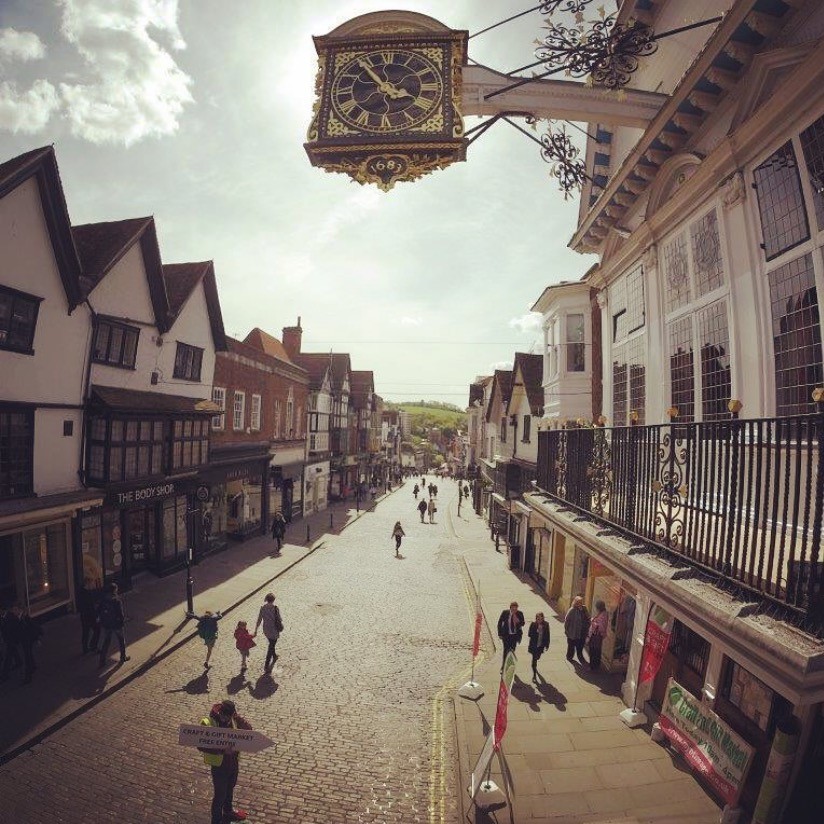 A survey by Home-Approved would identify any significant structural issues, which means a full building survey is essential for a period property. But even modern houses can have their fair share of problems – so do think carefully about the merits of a thorough inspection.
Yes, it's more expensive than opting for a condition report but you may well save money in the long run. Especially if the report shows up issues that can give you some negotiating power over the property purchase price.
Because much of our work is focused in Guildford and the surrounding ideas, our local knowledge always proves useful. Perhaps we've inspected a house in the same street that revealed a serious issue with movement or subsidence. If so, we will approach your property with these issues in mind. We will be extra vigilant for any tell-tale signs.
Then there is the added advantage that we can give accurate estimates for any remedial works that need to be undertaken for any faults that we identify.
Why not get in touch with Home-Approved – the expert Guildford property surveyors – and book a building survey today!