Ever since Home-Approved was set up, back in 2010, we've been committed to providing the most comprehensive and thorough building surveys to prospective buyers. We know how stressful the buying process can be and how huge the decision-making process can be and we're proud that the service we provide helps people continue to buy their dream home – and sometimes to walk away from a possible home from hell!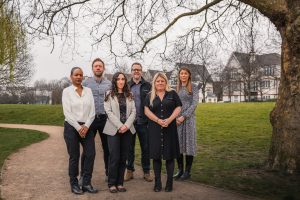 But that's not all we do! Over the years we've grown the business and our team has expanded so that we can provide a range of services delivered by experts in their field. So here's a quick overview of what we do.
Working with owners who have noticed damage to their properties and need to get to the root of the problem. A specific defect survey assists in determining the cause of the damage, makes recommendations on how best to carry out repair as well as providing advice on the estimated costs involved.
Works on walls, ceilings, floors or boundaries that are shared with another neighbour can be a minefield. There are all kinds of legal hoops to jump through and a correct process to follow if disputes are to be avoided. As members of the Faculty of Party Wall Surveyors, we will provide the necessary professional guidance and support, whether you are instigating the building works yourself or have been served a notice because you are the adjoining owner. Working with a party wall specialist will ensure that the works are legally compliant and fair to all parties involved.
We are experienced in working on behalf of building owners and managers to deliver projects on time, on budget and to all required building standards. If you own a commercial property that is about to undergo an extensive refurbishment or manage a residential block and are about to undertake cyclical repairs, we have the knowledge and experience to keep your project on track.
Every property owner/manager has a responsibility to their tenants/leaseholders to keep the building in good condition. It also makes sense that a well-maintained building also maintains its value. From making sure roofs aren't leaking to checking the drainage, an initial survey enables us to put in place a maintenance schedule for up to 20 years, which also means maintenance funds can be sensibly managed. As well as providing planned maintenance programmes for residential properties, our service extends to offices, commercial premises, churches, recreational and educational buildings.
Quite a lot more than building surveys then! Whether you are a home owner or have a mixed portfolio of properties, Home-Approved can help with all your needs when it comes to bricks and mortar. Why not give us a call on 0800 980 3113 to find out more.